Chef Michael Sterner Joins the PONTE HEALTH Team to Help Design Facilities and Lead Operations of Farm-To-Table Nutrition for VERTICAL MEDICAL CITY in Downtown Orlando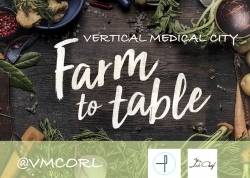 Orlando, FL, March 01, 2018 –(PR.com)– Ponte, Lead Architect and Developer of VMC ORL, seeks extensive experience and a certain unparalleled focus when identifying Key Team Members for the development of the upcoming cutting edge facility in Downtown Orlando.
"Nutrition is going to be critical," says Ponte, who agrees that the quality of a patient's sustenance as well as his or her daily intakes can either help improve or help deteriorate his or her condition. Further, she states that not only nutrition quality and quantity, but she expands also "our (the Facility's) ability to track the data and create prediction models."
Because of this, PONTE HEALTH has partnered with Chef Michael Sterner, once Executive Chef at Florida Hospital and now Chef and Owner of The Local Chef, to Help Design the Facilities, Design Menus, and Help Develop and Lead Operations for Farm-To-Table Nutrition in VERTICAL MEDICAL CITY, the new Complex Care Facility to include Assisted Living, Memory Care, Hospice, and Geriatric Urgent Care as well as Outpatient and Diagnostic Services in Downtown Orlando.
Chef Michael Sterner, a graduate in Culinary Arts Management from The Culinary Institute of America in Hyde Park, New York, has a plan for his farming and food and beverage staff which includes a potential partnership with his Alma Mater, the World's Premier Culinary College. Details are yet to be worked out for a Partnership with the Institution, but Chef Sterner has began the conversation.
"We plan to incorporate Hydroponics, and are contemplating Aquaponics," Ponte shared, in addition to the Team looking at incorporating Multi-level Urban Farming, Indoor Farmed Living Walls as part of the Facility's Biophilic Spaces, Personalized Performance Menus, and a Membership- and Reservations- based and Special Events Venue at the higher levels of the Complex.
The goal, the developer expands, is to provide the best quality nutrition we can to the facility's residents, care and staff, while even giving our neighbors nearby the opportunity to get access to high quality produce and meals.
Contact Information:
PONTE HEALTH, P.A.
Tabitha Ponte
321-300-6670
Contact via Email
www.pontehealth.com
Email project inquiries to:
[email protected]
Read the full story here: https://www.pr.com/press-release/746284
Press Release Distributed by PR.com