Lockdowel and HOLZ-HER Equipment to Manufacture Closets at AWFS Las Vegas Closets Produced Will be Donated to Boys & Girls Clubs of Southern Nevada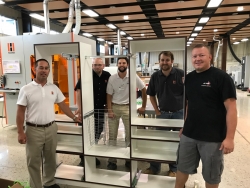 Las Vegas, NV, June 29, 2017 –(PR.com)– Lockdowel and WEINIG HOLZ-HER USA (HOLZ-HER) announce they will demonstrate "Closet Manufacturing" in the HOLZ-HER booth number 7065 at the Association of Woodworking and Furniture Suppliers (AWFS) Fair, July 18-22 in Las Vegas. During the AWFS Fair the companies will produce three new closet systems per day on the HOLZ-HER Evolution 7405 Vertical CNC Routing and Machining Center. Closet units manufactured at AWFS by HOLZ-HER using the Lockdowel Mini EClips System will be donated to Southern Nevada Boys and Girls Club following the event.
"HOLZ-HER will have a fully operational workcell to design, machine and construct closet systems," Michael Cassell, HOLZ-HER CNC Manager says. "The workcell will feature the new SECTOR vertical panel saw, the AURIGA edgebander, and the EVOLUTION 'Connect' Vertical CNC Center. We will machine the closet components using Lockdowel's new Mini EClips fittings designed for closet manufacturing, drawer mounting and shelving construction and show how functional and attractive a closet can be!"
"Lockdowel makes the 5mm closet standard better by completely hiding the EClips fittings from view," Lockdowel Co-founder and President Bryan Koelling says. "Like all of Lockdowel's fastening solutions, complete closet assembly is glue-less and tool-less, allowing complete construction in about a third of the time."
The revolutionary Lockdowel Eclips is the easiest and fastest method to manufacture and assemble closets, cabinets and furniture at the manufacturing point, or at the customer's site. Lockdowel assembly requires no glue, saving 60% of the time and labor traditionally required for projects, according to the company's customers.
"HOLZ-HER sees the amazing value proposition Lockdowel adds to contractors and designers charged with building more efficient, attractive and easy-to construct closets," Michael Cassell CNC HOLZ-HER Product Manager says. "Using our HOLZ-HER Evolution 7405 Vertical CNC Routing and Machining Center, and the 5 mm Lockdowel Mini EClips fasteners we will manufacture a master-built closet that we are proud to give to the Southern Nevada Boys and Girls Club following the show."
About Lockdowel
Lockdowel manufactures fasteners, drawer slides and hinges for fast and easy installation of cabinets, furniture, closets and architectural millwork. Patent pending. Lockdowel 48834 Kato Road #110A Fremont, CA 94538; (650) 477-7112 www.lockdowel.com Come to Lockdowel booth number 9256 at AWFS Las Vegas to see the fastest, glue-less, tool-less, RTA assembly solutions today.
About HOLZ-HER US
HOLZ-HER US is part of the worldwide WEINIG Group, synonymous for providing solutions and the latest in technology to solid timber processors.
Within HOLZ-HER US we offer nationwide sales and service coverage and your business is supported by more than 20 experienced employees working in after sales and service. HOLZ-HER USA, 124 Crosslake Park Drive, Mooresville, NC 28117 Telephone: 877 548 0929 www.holzherusa.com
About Boys & Girls Clubs of Southern Nevada:
The Boys & Girls Clubs of Southern Nevada (BGCSNV) is a nonprofit organization that operates 14 facilities in Southern Nevada, and serves more than 20,000 youth annually. The Clubhouses provide a safe place, caring adult mentors, fun, friendship, and high-impact youth development programs for children ages 5-18. Boys & Girls Clubs of Southern Nevada works to enable all young people, especially those who need us most, to reach their full potential as productive, caring, responsible citizens. Keep up with BGCSNV events and news on Facebook, Twitter, and Instagram. For more information, please visit www.bgcsnv.org or call 702-367-2582.
Contact Information:
Mary Lynn Heath, PR
Mary Lynn Heath
405.641.9733
Contact via Email
www.lockdowel.com
Read the full story here: http://www.pr.com/press-release/721848
Press Release Distributed by PR.com