Gain an Edge with the Mv10 from Ergo Golf; Announcing an Exciting New Golf Product Designed to Eliminate the No. 1 Cause of Golf Injuries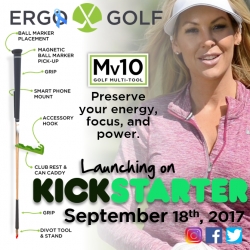 Huntington Beach, CA, September 14, 2017 –(PR.com)– The Ergo Golf Mv10 was born on the golf course. The inventor, an avid golfer, ergonomist, and prostate cancer survivor played golf to stay physically active and aid recovery during treatment. It was there on the course, where the moment of insight came. While golf is not considered a high-impact sport, the highly repetitive bending and crouching puts all golfers at risk. The Ergo Golf multi-tool was created to greatly reduce the golfer's risk of injury and minimize the negative impacts of the game.
Golfers bend over a lot!
Set down a club. Fix a divot. Place a ball marker. Retrieve the ball. Pick up the flag. A typical round can require up to 125 ergonomically at-risk postures. Most of which are performed on the green prior to the most stressful swing – the drive. The science is clear, if you reduce stress on the back and knees you can preserve your energy, power, and focus – hit it farther and play longer.
Golfers spend four to five hours in a bent-over stance, repeating the same motion hundreds of times. It's no wonder that playing golf can cause minor strains on the back that can easily lead to severe injuries.
Take Mv10 along during gameplay. Prop up an extra club while on the fairway. Fix a divot on the green. Rest the flag within reach. No more wet and lost clubs. No more walking back to the cart for a towel or brush.
Many professional golfers require multiple surgeries on their knees and backs to sustain their careers. Could using an Ergo Golf multi-tool extend a pro's career? It's a competitive edge golfers are not yet taking advantage of.
Preorders begin September 18th, 2017 on www.kickstarter.com.
Visit www.ergo.golf for more information.
Contact Information:
Ergo Golf
Josh DeStefano
949-294-7319
Contact via Email
www.ergo.golf
Read the full story here: http://www.pr.com/press-release/729872
Press Release Distributed by PR.com